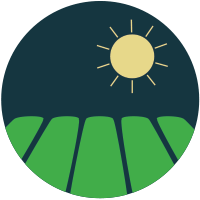 Agronomy
Utilizing agronomy to transform a community, by providing food for families and an economic engine for sustainable growth.
Agronomy
Utilizing agronomy to transform a community, by providing food for families and an economic engine for sustainable growth.
OUR AGRONOMY PROGRAMS
Malnutrition and hunger are big problems in Haiti for both young and old. Many families live on less than $2 a day and cannot afford the food they need. By feeding people and then teaching them to grow their own food, we hope to not only meet these immediate needs, but also teach farmers more sustainable farming practices.
Agronomy Techincal School
Training local leaders to practice sustainable farming and help feed their communities.
About the program
The Many Hands for Haiti Agronomy Technical School was founded on March 28, 2016. Through the training program, we select leaders from different communities to train in best agricultural practices and techniques. Our desire is that the school would take agronomy training to another level to improve the people's lives in the communities through our students and leaders.
Class Structure
The class has two phases:  a theoretical phase and a practical phase.
During the theoretical phase, students learn from a qualified Haitian Agronomist, In class, they study various techniques and best farming practices. During class, they hold discussions on many subjects, including gardening, protecting the environment, and fighting against erosion,
In the practical phase, students use our training plots to implement what they are taught. Working together they master everything they learn in class, growing their own crops. We facilitate their training by providing water, tools, seeds, and fertilizer.
Cost
MH4H sponsors class participants, covering the cost of lessons, crops, and tools. At the end of the program, if they graduate, students keep the tools provided for in their sponsorship.
Outcomes
Graduates receive certificates to use for future jobs. They will also be able to grow their own crops and help take care of their families. Students are then encouraged to go into their respective communities and share their new knowledge with others.
We utilize our Hydroponic Greenhouse to grow much needed, nutrient dense produce for the local communities of Pignon.
Hydroponic Greenhouses are a sustainable way of growing nutrient rich foods for local communities. These greenhouses also allow us to grow produce that normally would not thrive in Haitian soil and weather conditions.
Benefits
As no soil is needed, we can construct these in areas with poor soil quality. Also, crops grown in these controlled greenhouses are not easily contaminated.
Less water is needed than with soil-grown crops and they provide plants with the optimal amount of sunlight, allowing for faster growth. Bugs, weeds and other threats are reduced with a hydroponic system as plants are sheltered and easy to care for.
Crops
Our greenhouses are able to produce up to 400 pounds of food a month, depending on vegetable types and crop rotations. Crops we are able to grow include:
husbandry economic project (H.E.P.)
A farmers cooprative run in partnership with the Reformed Church of America (RCA).
The H.E.P. farmers cooperative is a holistic approach to community development, providing a sustainable income for families.
How it works
The cooperative works on a family-based distribution model. Parents with children in our Love in Action programs are provided with livestock from MH4H managed commercial herds. They use these animals for breeding purposes, providing them with an income and sustainable food source.
Parents are then able to sell successfully bred livestock back to MH4H, which we use to feed children and parents in our education and feeding programs. MH4H pays parents for livestock sold, with a portion of the profits going into an education fund for their child. Funds in their Education Fund are matched while in the Power to the Parents program.
Support
MH4H provides various support through H.E.P. This includes livestock training and technical support from our expert agronomists. We also provide access to vaccinations and medicine for animals.
Benefits
This program facilitates a sustainable change in communities. We are teaching valuable life skills, providing much-needed support for growth, and investing in future generations through education. By providing families with a means to support themselves and their children, we are giving power and dignity back to families.
Food Distributions
Meeting the immediate needs of those in poverty, while providing sustainable long-term solutions.
The Problem
Feeding can prove to be extremely difficult, as there is always tension between short-term giving and long-term sustainability. The proverb "Give a man a fish and he will eat for a day. Teach a man to fish and he will eat for a lifetime" is true.
But, tell that to a woman in the hospital, who just gave birth to a child and now is responsible to gather her own food. Tell that to the kids going to school on empty stomachs that are now expected to learn. In these cases, we address the need directly in front of us.
Our Solution
Food Distributions exsist as an answer to both these issues. By addressing the immediate needs of Haitians, while creating sustainable solutions for communities, we hope to eliminate malnutrition and hunger.
Using our programs we target families, providing nutrient rich meals to combat malnutrition, and classes to bring families into a self-sustaining future.
Food Distributions
Partnering with local and US organizations, we are able to supply 1.5 million meals to Haitians facing poverty or malnutrition. We work with Meals from the Heartland and Convoy of Hope to distribute pre-packaged meals, while using our crops to provide food for local communities and programs.
Market Vendor Program
We also provide families with opportunities to sell our harvested crops at local markets for a profit. Families can also keep fruit and vegetables they purchase for themselves, giving them a way to cook nutritious meals for their families.
Community Gardens
With our community gardens we provide plots for locals to grow their own crops, providing them with food and eat and sell.
Support These Programs
You can make a difference in the life of a child and transform their future.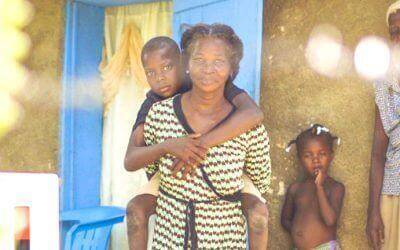 Khaki's Story Healing through P.E.T. Carts Khaki was your average boy, but at the age of four, something changed…Khaki could no longer walk or stand on his feet. This is his story. A visiting mission team were distributing food in Khaki's rural community. They found...
read more