A day of going to church and being the Church for the Hope Reformed team as they sing God's praises and distribute food to those in need.
Click here to read yesterday's blog post.
Bonswa to all of our readers! It was a day full of many emotions. We shared our love of God through music and serving others as well as getting a sense of adventure later in the day.
It was finally a morning that we got to sleep in, which was only until 8:00. Craig made us French toast with the Haitian bread and it was very good. After that, we went to the church service. We got the chance to sit in on a little bit of Sunday school for the adults before the service started. The woman song leader walked up and down the aisle using the beautiful gift God gave her to show her love for Him. In between songs she would say a prayer. Even though we didn't share a language with them, our mutual belief in Jesus Christ shined through the most this morning.
Our team also got the chance to share two songs, "Amazing Grace My Chains Are Gone" in English, and "Lord I Need You", with the chorus being sung in Creole. Our Haitian friend Fransly along with Christi and Regan joined in with us. Even though they couldn't understand us, we could see the love of God pouring out of the Haitians. Mike also shared a message at church today about how we need to go down the road that leads to God instead of going down the wrong path and falling into a pothole.
The church the team worshipped at
Playtime for this little blessing while the church worships
The service ended and we rode the tap-taps back to the compound to eat lunch. After lunch we split up into two groups with our translators, Fransly and Richelin, to pass out food and Bibles to the poorest of the poor.
Kiersten and Caitlyn's group first went to a family with a really old woman who was sitting in the middle of sheets on a stone floor in a very small, one room house. She was crying out with hunger because a family had spoken badly to her that day. She wouldn't stop crying and talking so Richelin had to stroke her head and tell her to calm down so that Gloria could pray for her.
Next we visited an old man and his daughter. The man had an unknown skin condition that left dry patches of skin all over his body with his legs and feet completely covered. Richelin said he lived in the house behind him and that it makes his heart really sad that the man sits in the sun all day and he's not able to help him. Kurt prayed for him and his daughter along with the man who had his leg amputated last year who lived with them.
After that we went to a house belonging to four women and their kids; two of them were sick. The older woman has been sick for four years. She's not able to talk or hardly function on her own. The other woman has a problem in her stomach that makes her look really bloated and almost pregnant when she isn't, but no one knows the diagnosis of either of their illnesses. Lon prayed for both of the women after being distracted by the children, but that wasn't much of a surprise.
The fourth place we went was to visit a woman that Richelin knew who had been sick for a long time; however, the woman had died four days ago so there was a funeral taking place. We still went up to give food to the family and Jim prayed for the loss of their mother. There was a blind man at the funeral who took us to his house so that we could give him food. Kiersten presented the food and Bible before Caitlyn prayed for the man and his four grandchildren.
Carli and Brenna's group had the opportunity to visit six different homes. They saw a variety of different people, some Christians and some not. This lead to many conversations talking about how God loves us no matter what stage of life we are in. They all were thrilled to receive the Bible and food; they also graciously let us pray for them. One moment that was very inspiring to us was when we asked a lady if we could pray for her. When we mentioned this she proceeded to put on a shawl to cover her shoulders, put on a hat to cover her head, and knelt down so we could place hands on her. This was a sign of her humbling herself and following Haitian customs.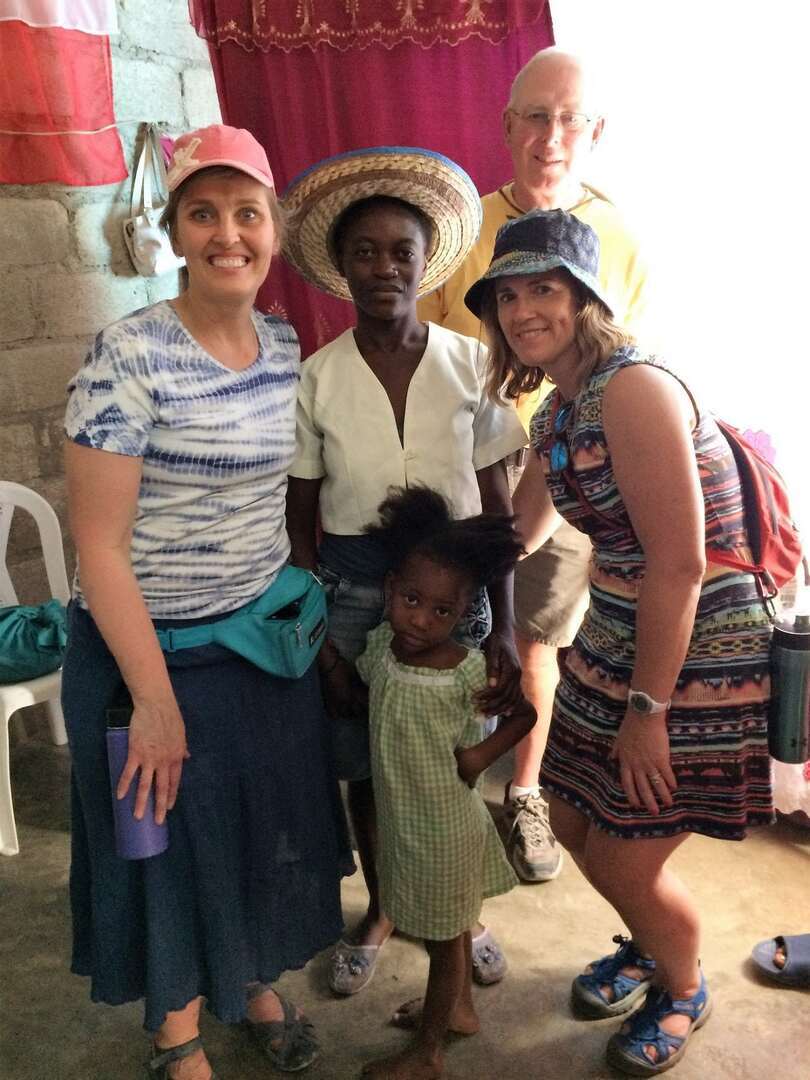 After doing food distribution we met up at a youth group to perform our skit for the kids. There were a few complications so Kurt stepped up to play the devil and Fransly replaced Woodson as the romantic guy who danced with Kiersten so that he could play Jesus.
We returned to the compound and then a group of us went to the suspension bridge. This was a unique experience for many of us.
Check back in tomorrow,
Carli, Brenna, Kiersten, and Caitlyn