Khaki's Story
Healing through P.E.T. Carts
Khaki was your average boy, but at the age of four, something changed…Khaki could no longer walk or stand on his feet. This is his story.
A visiting mission team were distributing food in Khaki's rural community. They found Khaki and his mother and were moved by the little boy and the resilient way he and his mother were managing their hard situation. Through our partnership with Mobility Worldwide in Leighton, Iowa, Khaki received a Personal Energy Transportation (PET) Cart, free of charge.
With this cart, he can now take himself wherever he needs to go. Since she does not have to carry Khaki anymore, his mother has more time to work.
Meet Khaki, a young boy in Pignon, Haiti. Unable to walk since the age of 4, he could not even bend his legs to go to the toilet. He had to stand. From this point on, his mother carried him on her back everywhere he needed to go. As Khaki kept growing, it became harder for his mother to carry him.
"I want to say thank you so much to the people who have helped my son get this P.E.T. machine. Thank you so much. I do not know them, but they come from very far to help people in Haiti and they think about us who are in need."
Donate and help children like Khaki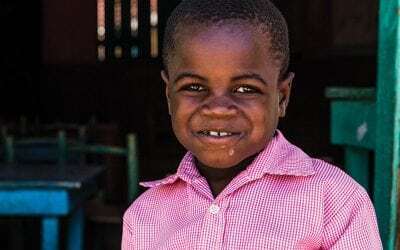 Kerlin's Story A Little Boy's Dramatic Transformation "The program is good for Kerlin and it's good for me. He likes to make me laugh. When he comes home, he hugs me, kisses me and tickles me." When MH4H staff first met Kerlin, he was only 34.5" tall and 29...
read more
Edlin's Story Inspiring female leadership in Haiti "God will give you all you need to make it happen. You can't get discouraged when things get tough. You have to be patient so you can get where you want to be." M rs. Edlin Val plays an essential role in the...
read more