Get ready to enjoy a Sunday afternoon cruise, joining other motorcycle and car enthusiasts to raise money for a worthy charitable cause. Choose from one of four planned routes on the day, enjoying a relaxing ride through the Iowa countryside.
Riders and drivers will depart at 12pm from the Federated Fellowship Church parking lot. (309 Roosevelt Pella, IA). During the 2-3 hour ride, there will be the option to stop at a selected local restaurant for a meal. After arriving back at the Federated Fellowship parking lot, participants can enjoy an ice-cream social open to participants, families, and the community.
Ride for the Cause is a charity motorcycle ride based out of Pella, IA. This ride was created to raise funds and awareness for local charities, while bringing together motorcycle and car enthusiasts alike.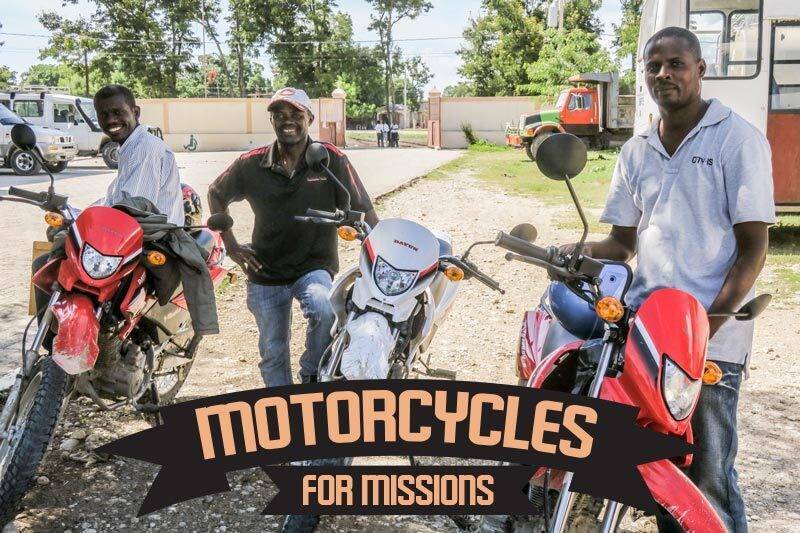 This year, Ride for the Cause is partnering with Many Hands for Haiti, raising money for much needed motorcycles for Haitian Pastors. This gift will enable these Ministers to provide critical pastoral care more effectively in their remote communities, reaching those will little access to food, care, and community support.
Each route will begin at Federated Fellowship Church parking lot (309 Roosevelt Pella, IA) and will include a unique restaurant to stop at if you wish to enjoy a meal. As routes fill up, more routes will be opened.
NORTH ROUTE – Haverhill
This route will take you through the back roads north of Newton to the small town of Haverhill. With a population of just 173, the town is home to the Matt Edel Blacksmith Shop opened in 1883. Lunch will be at the Haverhill Social Club.
NORTH ROUTE – Newton
Founded in 1846, Newton has long been a part of Iowa history. It is the home of Iowa Speedway, Maytag Dairy Farms, and the Iowa Sculpture Festival. Enjoy lunch at Moo's BBQ. 
EAST ROUTE – Ottumwa
Travelling east to Ottumwa, this route will allow you to enjoy some familiar sights, along with some new ones. Lunch will be at Mike's Pizza. 
WEST ROUTE – Winterset
Known as the birthplace of John Wayne, Winterset offers beautiful views in the surrounding Middle River Valley area. Explore the area which is known for covered bridges, Clark Tower, and beautiful countryside. Enjoy lunch at North Side Cafe.
EAST ROUTE – Lake Ponderosa
Lake Ponderosa is a beautiful lake along Diamond Trail, just west of Montezuma. Lake Ponderosa was built in the 1960's by the Ahrens family and boasts 440- acres of wooded landscape and seven miles of shoreline. Lunch will be at the popular Pirates of Ponderosa resturaunt.
Ticket sales have begun, with an Earlybird registration available for $45 until June 30th. All participants receive an exclusive Ride for the Cause t-shirt. Each driver can register one rider for $20. Riders may purchase their ticket separately.
Driver (Car or Motorcycle) – $50
Rider (Passenger) – $20
No Results Found
The page you requested could not be found. Try refining your search, or use the navigation above to locate the post.
Registration Begins - 10:00am
Riders, Drivers, and passengers who are participating in the event must check-in at our registration booth. Registration will close at 11:45am.
If not sold out, tickets will still be available on the day of the event.
Service at Federated - 10:30am
All participants are invited to join us at Federated Fellowship for a "come as you are" service before the ride begins.
Riders and Drivers Meet - 11:45am
All participants will gather together for final instructions before beginning the ride.
Event Begins - 12:00 pm
The ride begins! Participants will leave on their chosen routes, beginning an enjoyable ride through the Iowa countryside.
Break for Lunch - 1:00 pm
Riders on each route will arrive approximately at 1:00pm at a local restaurant for an optional hour lunch break.
Participants pay for their own meal.
Rider and Drivers Return - 3:00 pm to 4:00pm
Participants are expected to arrive back at Federated Fellowship parking lot before 4:00pm. Your arrival time will vary according to your route and the speed of your group.
Ice Cream Social - 4:00 pm
Our family-friendly ice-cream social will begin, providing participants and their families with delicious ice-cream and topping options!
No Results Found
The page you requested could not be found. Try refining your search, or use the navigation above to locate the post.
For any questions, please fill out the form below and we will get right back to you. You can also call us at 641-629-6633.