Kris and Jeff Van Maanen in Haiti – 2010
Walking through the church doors, Kris moves very slowly. Diagnosed at 19, Multiple Sclerosis has raged a war against her body for the past 40 years. With a cane in one hand and her husband, Jeff, on the other, she moves one foot in front of the other, making her way down the hallway. What Kris lacks in physical strength, she makes up with determination, faith, and connection with her Abba Father. Jeff is an unassuming man, quiet and reserved, full of wisdom and generosity. With a smile on his face, he leads his wife into the sanctuary each week. Together, they are going to connect with the King of Kings, no matter the physical hardships to make this happen. Such is the picture of Jeff and Kris Van Maanen, warriors in the darkness for Many Hands for Haiti.
Growing up, I spent many a Sunday night at Jeff and Kris's house, attending family Bible study. I can't remember a time when I didn't know Jeff, Kris, and their kids Carrie, Ryan, and Matt. With this history, when we launched Many Hands for Haiti in 2008, Kris took the lead on praying for the ministry and Jeff helped us legally set up our organization. Despite Kris's physical limitations, they wanted to go to Haiti to see this for themselves, traveling to Pignon in 2010. Kris was amazing, sitting in the front seat of the truck, seeing all the sights and meeting all the people. With a greater sense of what this could be, Jeff and Kris became diligent in prayer and financial resourcing for the ministry. In 2009, we had our first "Hotcakes for Haiti" breakfast, as we needed to raise $30,000+ to purchase a Toyota Hilux to launch the ministry. I will never forget the check Jeff and Kris wrote, effectively securing the needed funding for this essential tool at the beginning of our ministry. In 2011, when I went full-time with Many Hands, Jeff offered an office to me, giving me as much time as needed till we could actually pay for the space. In 2014, Kris organized times of prayer during some of our darkest days, lifting us up to God, broken parts and all. Too numerous to name them all, Jeff and Kris have given countless hours and resources for God to transform us together, to be love in action, in our broken world.
"Prayer is the tool to break darkness.

"
In Exodus 17:8-15, the Amalekites came and attacked the Israelites. Moses, the leader of the Israelites, said to Joshua, "Choose some of our men and go out to fight. Tomorrow I will stand on top of the hill with the staff of God in my hands." The battle raged and as long as Moses held up his hands, the Israelites would win, but whenever he lowered his hands, the Amalekites would win. Aaron and Hur knew Moses' hands were growing tired, so each held up a hand – one on one side, one on the other – so his hands remained steady till sunset. Because of this, Joshua overcame the Amalekite army and Israel won the day.
Jeff and Kris Van Maanen are our Moses, Aaron, and Hur. Much like Joshua, our staff spends much of the time on the battlefield, raging a war against spiritual darkness, brokenness, and poverty. When Kris raises her hands in prayer on our behalf, something happens. We've felt the spiritual protection provided to us through the prayers offered and organized by Kris, as she has lead the Prayers for Haiti emails for years. Right beside her is Jeff, holding her arms up by providing financial, emotional, and physical support for Kris and so many of our staff. To look up on the mountain and see Jeff and Kris with their arms raised on our behalf gives us confidence to fight the battles of the day. When we pray without ceasing, God breaks strongholds, burdens are lifted, and healing and deliverance comes. Prayer is the tool to break darkness.
Many Hands for Haiti stands of the shoulders of Jeff and Kris Van Maanen, who like Moses, Aaron, and Hur, stand on the mountain overlooking us engaging in battle, raise their hands to God, and intercede on our behalf. It should come as no surprise in God's upside-down Kingdom that Kris, who is physically weak, is the most effective fighter we have to overcome darkness. May we all raise our hands in prayer, to intercede for the brokenness in our world, for God to deliver us. And if we ever lose our way, we can always look up the mountain and see Jeff and Kris, side-by-side, hands raised, leading the way in the darkness.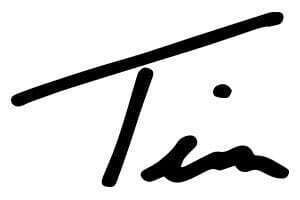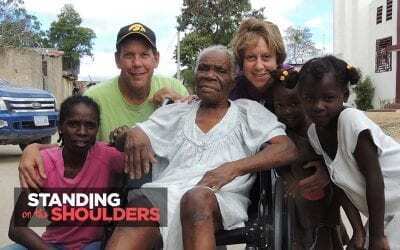 Many Hands stands on the shoulders of Tim and Lucia Van Maanen, whose sacrificial "I'm with you" spirit forever set our organization on God's path.
read more