Virg and Dorothy in Haiti – 2006
Riding in the back of the very large white Mitsubishi truck, my eyes are as wide as saucers as I peer around at my surroundings. Being an 18-year-old, international mission trip first-timer, the sights and the smells are overwhelming. At the front of the truck are our leaders, Virgil and Dorothy Dykstra. Virg is standing tall at 6'9", slim frame, white beard, with sides-tied up khaki bucket hat sitting on his head. Dorothy sits next to him, all smiles, with blue bib overalls, and a fanny pack around her waist. Little did I know at this point in my life the impact this man and woman would have on me, the country of Haiti, and the state of Iowa. Like Paul to Timothy, Virg and Dorothy have been my mentors, encouragers, and mobilizers for the calling on my life and work in Haiti. Their steadfast faithfulness to God's global heart has been a foundation to many young people across Central Iowa.
This week marks the 20-year-anniversary of my first trip to Haiti, led by Virg and Dorothy, then youth pastors at Meredith Drive Reformed Church in Urbandale, IA. The story of how we all ended up in Haiti isn't a cut-and-dried story, as God orchestrated it from the beginning. In 1997, Virg and Dorothy had scheduled a short-term youth mission trip to Africa, but because of political unrest, ended up having to cancel the trip. Given they had raised all the money for the trip, they still wanted to take the youth group to an international destination. With the short time frames, they needed something already established with Iowa ties, so they contacted Steve Ross (to read Steve's story, click here). Down to Haiti went the team.
Upon arriving in Haiti, the Christian Mission of Pignon (CMP) didn't really know what to do with a youth team, as the majority of U.S. people who came were either doctors or engineers. Jude Augusma, one of the Haitian leaders with CMP who attended Pella Christian in Iowa in the late 80's, had an idea to get the team involved in education projects. He brought them to a community in Fontaine, just outside of Pignon, and the group talked with community members about the need for a school. It was a good talk, but Virg, Dorothy, and Larry Madole didn't think any commitments had been made. A few months later, a phone call from Jude stated the community had started building the promised school and they needed money to be wired to continue working! Not knowing what to do, Virg, Dorothy, and Larry jumped on a plane to talk with the community and all agreed they would step in faith, funding the school to be finished. Such began the CMP school-building initiative.
"Too numerous to list are the lives they have touched around the world doing mission work.

"
A year later In 1998, Virg, Dorothy, and Larry decided to bring a Meredith Drive youth team back to Pignon to put the roof on the Philadelphia Christian School in Fontaine, the promised school from the previous summer. Now enters my story, intersecting with Virg and Dorothy. I graduated in 1998 from high school, and a group of six of us from Third Reformed Church in Pella, IA, didn't want to go to Kentucky to build homes. We wanted to go somewhere international. My father had gone to Haiti in 1986 and Meredith Drive held a special place in my history, being baptised at the church before my family moved to Pella when I was two years old. We ended up contacting the Dykstras and they opened the mission trip up to allow the six Pella youth students to join. Such was the beginning of my Haiti path.
Over the past 21 years, Virg and Dorothy Dykstra have been responsible for hundreds of people and dozens of churches getting involved in Haiti. Too numerous to list are the lives they have touched around the world doing mission work. They were some of my biggest cheerleaders as I dove deeper and deeper into my calling. I went back with them to Haiti in 2000 and 2002. In 2004, Catie and I had dinner with them to talk about the potential of us leading trips and getting a younger generation of leaders involved in the work. In 2007, after sharing ideas with them about how we could do missions more effectively, they encouraged me to call a meeting of all the Iowa churches to discuss. After I said yes to organizing this meeting, they opened up Meredith Drive Church as a central meeting place, participated in the meeting, and made arrangements for food to create the right environment. To this date, I receive emails and notes of encouragement from them, helping spur me to continue the good work. Even in their eighties, Virg and Dorothy still travel to Haiti, inspiring me and others to continue the work God has started.
Virg and Dorothy in Haiti – 2017
Many Hands for Haiti stands on the shoulders of Virgil and Dorothy Dykstra, whose steadfast faithfulness to God's global heart created a wave of change for countless people in Haiti and Iowa. Thank you, Virg and Dorothy, for saying yes to going to Haiti, yes to building that first school, and yes to adding outsiders to your youth mission trips, when it could have been much easier to say no. They showed me how to see potential in that which is yet to come and faithfully hold onto those dreams. I'm one of those people forever changed by your steadfast faithfulness.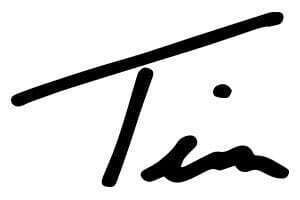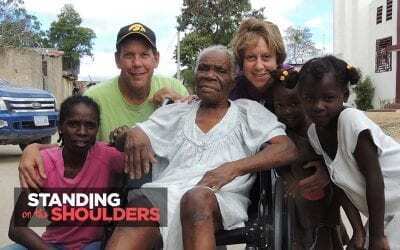 Many Hands stands on the shoulders of Tim and Lucia Van Maanen, whose sacrificial "I'm with you" spirit forever set our organization on God's path.
read more