Visiting Junette and her family in February, 2017
It was February 2017, and I was in Haiti with a small group of people from Zeeland, Michigan. On this day, we were visiting families in the community of Marliarette, who recently experienced a horrific act of someone being murdered. We first visited the wife, a sister, and the mother of the man who was now in jail being accused of this crime. The family claimed innocence for the man and were devastated that this charge had fallen against the family. We then visited the mother of the man killed. The last visit was to the now widow, Junette, and her fatherless children, Juzens, age 15; Cherlanda, age 8; Judlin, age 4; and Jakenson, age 1. If the situation itself wasn't horrible enough, what I heard and saw at the house filled me with righteous anger. Junette's house and living conditions were appalling. The doors were falling off the house, mud walls with holes were on all sides, and a "bed" made of used cement bags lay in a pile of clothes and garbage. The young kids were malnourished, with the visible signs of extended bellies and thin, reddish hair. I was then told Junette had given birth to 12 children, with only four still living. Now, in addition to the deaths of her children, she lost her husband. I went behind the house, out of sight to the rest of the team, wept and had a few words for God. This seemed impossible. What could we do?
Video showing the state of Junette's house
The inside of Junette's house
"When the going got tough, he didn't pray for the persecution to stop, but to make him strong enough to carry the responsibility."
Around 444 B.C., Nehemiah was an Israelite serving as a cup bearer to King Artaxerxes, the King of Prussia. One day Nehemiah received news that Jerusalem, the symbol of the Israelites, was in great trouble and disgraced. The wall of Jerusalem was broken down, and its gates were burned to the ground. Because of this, the city was being ransacked and looted, and the Israelites were being ridiculed and persecuted. This caused Nehemiah to weep, as this once great city, the sign and symbol of God's favor to the Israelites, was now in shambles. Nehemiah decided a bold action: to petition the king to allow him to go and rebuild the wall. Just asking the king this question could have cost Nehemiah his life. But, he did it anyway and the King granted him passage, with supplies, to rebuild the city where Nehemiah's ancestors was buried.
When Nehemiah arrived, he faced much persecution from those in power that were benefitting from looting and robbing the Israelites in Jerusalem. He was made fun of, threatened to be killed, and attacked physically and spiritually. At one point, he had to have workers paired with armed soldiers to keep rebuilding the wall. In Nehemiah 6, Sanballet and the rest of his goons had it with Nehemiah. They acted like his friend, trying to lure him off the wall and meet in a neutral place, where they planned to kill him. Nehemiah sniffed this out and responded to Sanballet, "I am doing a great work and will not come down. Why would I stop to go with you?" Four times Sanballet sent this same request and four times Nehemiah responded the same way. Then, Sanbellet changed his tactic and decided to slander Nehemiah's character, trying to instill fear in him. Nehemiah didn't move and kept on working. Finally, Sanbellet went after Nehemiah's religion, making false claims against him. Through all of this, Nehemiah's prayer was not for the persecution to stop, but rather for God to strengthen his hands. "Make my hands stronger so I can carry more of this responsibility." God answered Nehemiah's prayers and rebuilt the wall in record time. When his enemies heard about it, all of the surrounding nations were afraid and lost their self-confidence, because they realized this work had been done with the help of God.
What I love about the story of Nehemiah is the lack of one big miracle. Instead, it was an ordinary person with great faith, using ordinary strategies with great perseverance, to do unbelievable work through God's power. When the going got tough, he didn't pray for the persecution to stop, but to make him strong enough to carry the responsibility. Thank God there was a team of people around me after the meeting with Junette and her children. We had people of great faith that used ordinary strategies with great perseverance, and we were able to witness God perform His miracles.
"God wants to rebuild, renew, and restore our brokenness in this life and the next."
Upon our return to the dorm, Taylor, one of our team members, 
wrote a blog about Junette.
The blog was read by a person named Terry, who immediately sent an email saying he would pay to build a new house. In two weeks, Junette had a new house. Since that time, our spiritual shepherds have walked with Junette, making sure she knows she isn't alone, God loves her, and we love her. Christi routinely visits her with short-term teams to bring a blessing of food and pray with the family. That February encounter also confirmed a vision in me to multiply our reach and open new programming in this part of Haiti, as a woman like Junette deserves the ability to feed her family, be educated, and have the power to send her kids to school. Marliarette will be rebuilt from the ground up, just like the walls of Jerusalem, and the voodoo and evil that has ransacked the community for decades will flee back to the darkness, as God is exalted for the work He has done through His people.
Terry with Junette and her family inside the new house, 2018
Many Hands for Haiti stands on the shoulders of God strengthening our collective hands to do extraordinary, persevering work. We pray for all the Junettes in Haiti and around the world, as God wants to rebuild, renew, and restore our brokenness in this life and the next. We are thankful for witnessing miracles, as God reveals His heart to us. May God continue to strengthen our hands to carry more responsibility for the Kingdom work He has given us.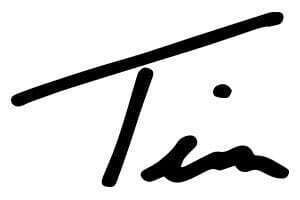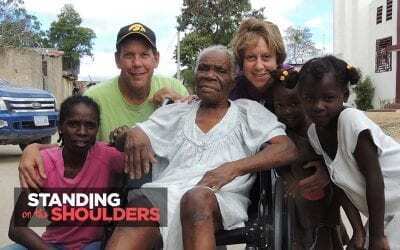 Many Hands stands on the shoulders of Tim and Lucia Van Maanen, whose sacrificial "I'm with you" spirit forever set our organization on God's path.
read more