On our campus stands a two-story building, painted in desert mirage grey, glass bottle green, and royal velvet purple. On the roof of the building is a perfect, tropical meeting space, with one of the best views in the Central Plateau. But to me, the best part of the building is a sign strategically arranged at the entrance reading, "Irene's Place – …here to serve…" This building was named after Irene Van Roekel, someone who never came to Haiti, but through her hospitality and generosity, created a legacy upon which we now stand.
Irene's Place, MH4H Campus
Irena Leona (Punt) Van Roekel was born near Sioux Center, Iowa, on March 2, 1922. She married Gerrit G.A. Van Roekel on May 1, 1941, and the couple moved around a bit before settling down in Sioux Center. They were blessed with two children, Judy and Dean. The couple farmed and owned the A&W Drive-In in Sioux Center and Inwood for a period of time. But, it wasn't these attributes that made Irene truly special. Where Irene had a unique calling was in her hospitality and generosity to love strangers. Irene truly understood the meaning of open door, as her home became known as a place to serve anyone in need. It wasn't fancy or elaborate, but it was a place to love people. Dean recalls days of people from the area staying at the house, grabbing a bite to eat, or providing a day job here or there for someone in need. The Greek word for hospitality literally means having "love of strangers." Irene lived her daily life with this passion.
Irene went to be with her eternal Father on January 19, 2015. In doing so, she generously left money to be used for Haitian Missions. In talking with the family, it was determined the best way to honor Irene was to honor the way she lived, creating a "home" for people to come and serve with generosity. It is now the home for many that come and love on strangers, carrying on the theme of Irene's life in the country of Haiti.
Irene lived a life of generosity and gave us a blueprint as to how to live a life "…here to serve…" First, point people back to God in all we do. Our God is one of abundance and He invites us to live life to the full. When we live generously, such as opening up our homes or feeding people in need, we are imitating God's character. Second, our generosity comes as a response to what God has already done for us. Irene knew she was a child of God, who sent His son to die on the cross for all of us. God has blessed us abundantly and we are called to share it with others.  Lastly, living a life of generosity increases our faith, as we rely on God to provide. Irene's faith was not based upon material possessions, but rather in the Creator of the heavens and the earth. When we give, we are released from the grip of selfishness and can walk into waters of faith, living a life of fullness.
"
But in God's eyes, she had everything needed for incredible Kingdom impact…

"
As I learned of Irene's life, it struck me how God has a unique calling for all of us, if we are willing to serve. Irene never went to Haiti and I never had a conversation with Irene. In the world's eyes, she had little to offer, as she wasn't particularly wealthy or famous. But in God's eyes, she had everything needed for incredible Kingdom impact: a heart to serve, generosity with her resources, a love of God, and a love for people. Hearing Irene's story, it forced me to re-evaluate my life, as her life pointed me back to Jesus. I'm glad God introduced me to Irene and her family, as I am a better follower because of the way she lived. 
The sign for Irene's Place
Many Hands for Haiti stands on the shoulders of Irene Van Roekel, whose life of hospitality and generosity to love on strangers left a legacy for us to continue in Haiti. Luke 6:38 says, "Give, and it will be given to you. A good measure, pressed down, shaken together and running over, will be poured into your lap. For with the measure you use, it will be measured to you." Irene had a cup that ran over and spilled onto those she came into contact with, demonstrating love in action.  We rejoice in her impact and pray her legacy can be carried on for generations.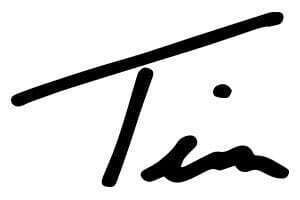 BRING
FAMILIES OUT OF POVERTY
GIVE TO THE 50/50 Campaign AND TRANSFORM TOGETHER WITH Families IN RURAL HAITI.
BRING FAMILIES
OUT OF POVERTY
GIVE TO THE 50/50 CAMPAIGN AND HELP FAMILIES IN RURAL HAITI.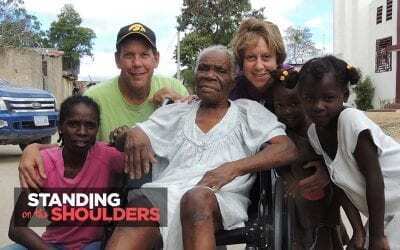 Many Hands stands on the shoulders of Tim and Lucia Van Maanen, whose sacrificial "I'm with you" spirit forever set our organization on God's path.
read more