Pastor Francois and his new Moto from Ride for a Cause
I love to play the "What if?" game, as alternative outcomes fascinate me. I think it is why I loved the Choose Your Own Adventure books so much as a kid. I was recently reading Acts 9 and a major "What if?" moment hit me. What if Paul had never escaped Damascus early in his ministry? What if no one had had the courage to step up, risk their lives, and lower Paul in the basket through the opening in the wall? What would our world look like today? As I reflected on this passage, it hit me that we've experienced something similar in our ministry. What if no one would have helped us on September 30, 2014? What if no one would have had the courage to step up, risk their reputations, and help us navigate the choppy waters after the Savanette explosion? There are many who played a role in our post-Savanette success, but there is one in particular who deserves to be mentioned. Many times in the ministry, we've referred to him as our angel on Earth, placed among us at such a time as this to give us strength, wisdom, and guidance to move forward. This man is Pastor Francois Romelus.
"
He played peacemaker…restoring peace amongst the chaos.

"
Pastor Francois Romelus was trained by one of the first western missionaries in the Pignon area, Oran Bell, who came to the Pignon area in 1947. In 1982, Pastor Francois and his wife felt called to start a church, later to be called Philadelphia Baptist. On my first trip to Haiti in 1998, this was the church I attended and Pastor Francois taught from the Word of God that Sunday morning. Over the years, we stayed in contact, as he helped guide some of our long-term staff living in the Pignon area. There would be many times where Pastor Francois, in the most loving way, would pull me aside and ask me a question. I soon learned these weren't so much questions, as instructions for me to think about a bit more. Rarely rebuking directly, he gave direction in a sage way, utilizing the gift of self-discovery to cement the learning.
Pastor Francois and his wife serving food at a leadership conference
On that fateful afternoon on September 30, 2014, we learned Pastor Francois was on the phone making calls to necessary people to help us. Some stepped forward and some didn't. It is in times of adversity one learns true friends and Pastor Francois was a life-saver for us. Upon returning to Pignon to rebuild the ministry, Pastor Francois would talk to us frequently, giving us guidance on how best to navigate to rebuild something stronger than before. He shared contacts across the country of people to engage with that could help us, as well as guidance on how to organizationally become better. He played peacemaker where possible, facilitating necessary conversations to restore peace amongst the chaos. Never forceful, he was a voice we could rely upon among the noise around us. I don't know how we navigate our rebuilding time without Pastor Francois Romelus.
Pastor Francois preaching for the Colors of Hope event at Philadelphia Baptist Church
Pastor Francois is in the later years of his ministry on this Earth. As I am nearing 40 this year, I'm in awe of those who have run a lifetime of ministry. What a blessing it is to learn from these pillars of the faith. It is of paramount importance that the wisdom of the previous generation be passed on to the leaders of the current generation. I'm thankful for Pastor Francois and his willingness to share in a gentle way. The number of lives he has changed is incredible, and his witness in the area is palpable. The Pignon area is better because of Pastor Francois, Philadelphia Baptist Church, and the ministries he leads and influences.
(L-R) Sharon Berkenpas, Pastor Francois Romelus, Karmen Brown
Many Hands for Haiti stands on the shoulders of Pastor Francois Romelus, who is our angel on earth, gently guiding us with wisdom, courage, and love. Every time I see Pastor Francois, a huge smile breaks across his face and we embrace. When we leave each other, he says to me, "Love you, brother." Love you, too, Pastor Francois. Love you, too.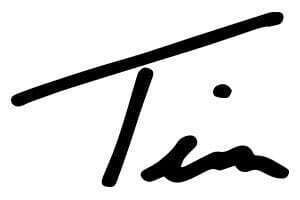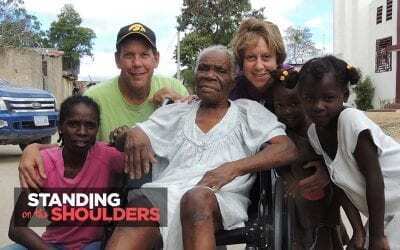 Many Hands stands on the shoulders of Tim and Lucia Van Maanen, whose sacrificial "I'm with you" spirit forever set our organization on God's path.
read more