The Sunnybrook short-term mission team are reminded that sharing God's love can be done through both the biggest and smallest of actions.
To read yesterday's blog, click here.
The morning started early and a few team members prepped about 150 peanut butter sandwiches for Vacation Bible School (VBS) after lunch.  While they were busy making sandwiches, the other team members hopped in the taptap and set off for a few food and mattress deliveries.  These people were so excited to have a bed to sleep in and food for their families.  The team presented the "gifts from God" and prayed over the families.  It's amazing how beans, spaghetti, bouillon cubes, laundry soap and a bag of rice can make someone so happy.
After lunch, VBS was a great show of God's work.  The team was able to successfully entertain about 150 kids from ages 3-16 (approximately).  The children heard two stories about Creation and how Jesus is always with us, sang songs, played some games, and ate the sandwiches with juice.  When the team prepared sandwiches they how no idea exactly how many to prepare and did not count exactly, only went off how many packages of napkins they wrapped them in.  However, when it came time for distribution, there were only three left! Talk about God knowing just how many we were going to feed!!
During a visit with a woman who was blind. Her only prayer request was for a new "peepee" bucket because hers had a hole in it.  Could you just imagine for a moment that this is your prayer request?  This woman had so much joy in her heart and it only comes from her love of Jesus.
Eariler in the day, some of us were also able to help a work crew pour a concrete floor. Even some of the local kids join in!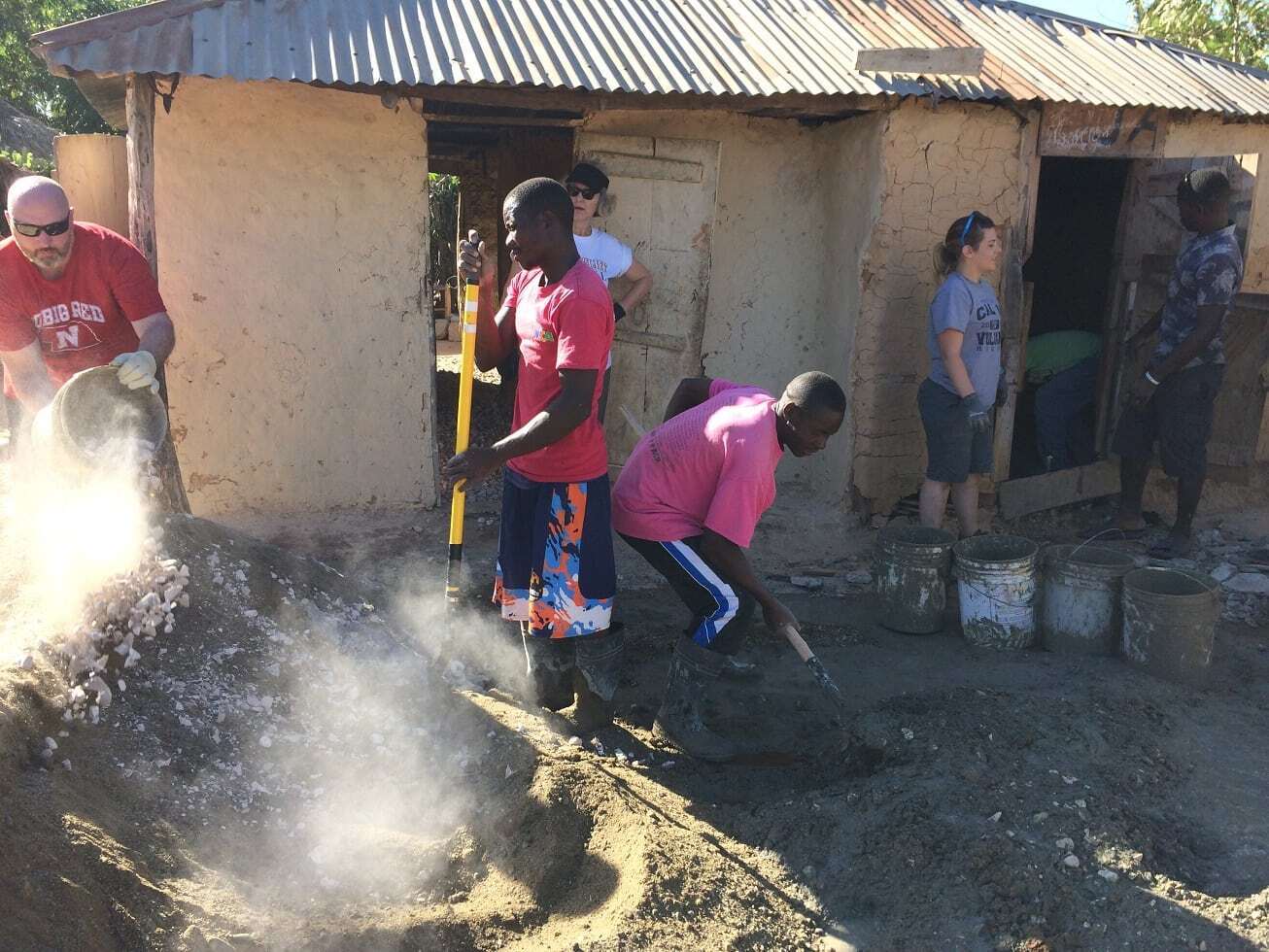 Today was the teams last full day in this beautiful country and we sure embraced every second of the day!  We started off early, much like yesterday with making about 150 peanut butter sandwiches for another fun filled day of VBS and food deliveries.
At the end of a long day, we were able to visit a local suspension bridge, down the road a way from the MH4H campus.
Over the week, the team has delivered food to 40 different families all around the Pignon Area.  The team has gone countless miles in the taptap, bouncing down dirt roads just to share these gifts from God.
At the end of every day the team gathers for devotion time. Tonight we were sad to say this was our last one for our week here. There were several team members who came to Haiti for the first time, while others are veterans.  This trip meant something different to everyone, from the contagious joy the Haitians have with nothing, to the ability to do God's work without hesitation.  Personally, this week has taught me that when you are fully submissive to God and follow His plan for you, he provides you with all the strength you need.  I would have quit, or complained while passing countless buckets of concrete back and forth over the physical demands.  By the power of God, it was an easy task.
Sharing Gods love could be as simple as a smile and a wave to serving on a mission trip and everything in between.  As my late Grandma would say, God loves you and I do too. "Bondye renmen ou e mwen renmen ou tou."  Goodnight all.  – Bethany