Director of Ministry and Benevolence Christi Gabhart shares updates from Haiti which will warm your heart and bring a smile to your face. From school children, to baby goats, to wedding preparations – you do not want to miss everything that is happening at the Many Hands campus. Keep reading as Christi shares how she is seeing God on the move.
God has a plan. In the wait of letting God's plan unfold, we put our best effort forth to stay in step with all that God has shown us so far.
Haiti is in a crisis. A type of crisis the country really has not experienced before. The exchange rate of US dollars to Haitian gourdes is in a tailspin. We hear of many families that are facing tremendous hardship because of the financial crisis at hand. What this has done for MH is cut our purchasing power basically in half. MH built 2 homes from the Safe Homes program in August. In September, that same amount of money to build 2 homes would now build ONE house.
As an organization, the decision was made to let things unfold a bit more to hopefully find a more stable market. In place of building, our Safe Homes department is painting houses that have been previously built by MH. A great end product in itself!
The school calendar for Haiti is also unfolding with adjustments made because of the world-recognized Corona Virus which is seemingly not a problem here. MH 'School of Light' started the new school year in October with beautiful new uniforms for each of the students. Boss Kelic, below, met the deadline with the 39 uniforms he was hired to sew.
Annually, incoming preschool families receive a gift of a pregnant female goat from MH prior to the start of the school year. With delays in the school schedule, some of the pregnant female goats have already given birth so a family could receive the adult female plus the 'kid'. These things 'unfold' with or without adjustments to the calendar!
Oh, what it takes in Haiti to be the mother of a preschooler! The goats are part of a program to help parents with the responsibility of paying school tuition.
Choosing and meeting twenty couples from our area that will have the privilege of being united in marriage is right on schedule. Meet Erick and Louisemene, 24 and 23 years respectively. Erick came to meet Louisemene because his aunt and cousins lived in the same community as Louisemene. The couple's relationship unfolded over time, during which Erick wore out many pairs of shoes because of the long walk to get to her house.
MH Lead Chaplain, Pastor Lumanes, sizes the couples for their wedding bands. Another beautiful couple, Makenson, a farmer aged 34, and Luitani, a small scale merchant aged 32, pictured below, will be married at MH campus on December 19. They were both raised in Christian families and both accepted Christ as their Savior early in life. They also lived in separate communities. Their relationship began as they attended the same church one day. They talked a bit after the service was over and things have been unfolding ever since. Makenson and Luitani have been waiting twelve years for this opportunity.
Part of the work of the MH Chaplains is to help put together all the documentation needed for the marriage to be officially recognized by the Haitian government. This birth certificate, issued in 1941, belongs to Ernest, and has been folded and unfolded more times than one could ever know. His beautiful bride, Debel, is just 72 years young! What a day it will be to see them in wedding attire
This is the first distribution of goats in the community of Maliarette, which is MH's second center for the First 1000 Days Program. Seated around the Maliarette gazebo are moms with the 3 year-olds of the program, excited to see the distribution unfold.
After some paperwork is complete, moms and children are happy to take home a pregnant goat to be cared for. A goat in Haiti is better than a savings account at the bank because of the dividends that unfold.
Everything to GOD in prayer… Each day in the life of a Haitian family requires strength and often just sheer guts to make it through. More than sixty MH staff were part of a prayer walk that took place one morning on the main MH Sylvain campus as well as the Maliarette campus. Over time a prayer path has been created on campus and was a key element with it's prayer stations and quiet places to be in the presence of God. The MH staff were directed to think about the theme of "Restoration". By taking care of the vertical relationship we have with God, we can improve our horizontal relationship with our fellow man. We read together, Luke 10:27… "You shall love the Lord your God with all your heart and with all your soul and with all your strength and with all your mind, and your neighbor as yourself." Below are visuals at two of the prayer stations.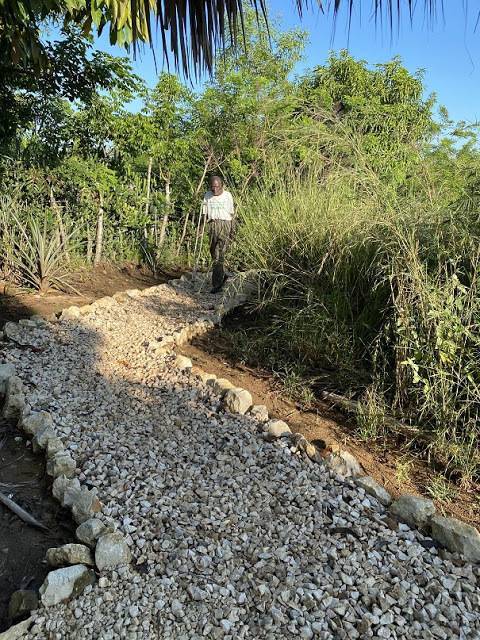 MH school teachers, night security guards, agronomy helpers, chaplains, agronomist, cooks, taxi drivers, program leaders, mobility cart repairmen, depot manager, and more, focused their hearts and minds on Jesus to present requests to God and give thanks for all the blessings.
Following the prayer walk, everyone assembled together in the Equipping Center to conclude with a united prayer.
Finally, MH Raised Bed Garden program is rolling again after the COVID 19 interruption. The participants, those with physical disabilities, are hard at work on MH campus to clean their garden spaces of overgrown weeds during the past time of neglect. Soil will be prepared and seeds planted, and sprouts watered. They will continue the training for successful gardening to happen eventually in their own yards
Agronomist Claudin shares some instruction with Joslin, also a handicapped farmer. MH has offered Joslin some training and assistance with developing a vegetable garden to provide a source of income for Joslin.
Warm, friendly greetings were exchanged to start out a difficult visit to Joslin's house. Joslin was a bit preoccupied with arranging a piece of cardboard. At first it was not clear what it's purpose would be. Joslin finally gets the cardboard torn in two and folded in just the right spot. Then… he lays both pieces side by side as you can see below. Then, as a true gentleman… Joslin motions and suggests, "Would you like to sit?" This was to be our meeting space to communicate that the assistance for his vegetable garden would not be able to continue. It had been a 'one and done' deal so now we pray for Joslin and SO MANY OTHERS who are in the wait for God's plan to unfold in their lives to see just how GOD will provide.
Our HOPE remains just as we can see this beautiful palm leaf growing and unfolding right before our eyes. God continues to amaze his followers with His goodness and the comfort He brings in times of adjustment, uncertainty, and waiting in a crisis.
God has a plan. In the wait of letting God's plan unfold, put your best effort forth to stay in step with all that God has shown you so far. "You shall love the Lord your God with all your heart and with all your soul and with all your strength and with all your mind, and your neighbor as yourself." Luke 10:27