Written By:  Teach For America teachers from Houston
March 11, 2013
Today in Haiti, we planned to go to Etoile School to see the opening ceremony, but we had a minor mishap due to daylight savings time. Last year, Haiti's president did not observe daylight savings time, so we did not think it would be observed this year. On the way to his school we saw half the children in the city walking to school. Once we got to school, we realized Etoile school had already started, so this year Haiti did apparently observe daylight savings time.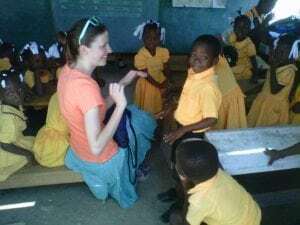 So we went to Etoile School and spent some time observing in each of the 6 classrooms. We were impressed by the level of teaching and how teachers were keeping students engaged. Teachers were able to accomplish so much with very little. It was a humble reminder that you do not need much to teach except: enthusiastic teachers and a place to work for the students.
During lunch, we got to enjoy beans and rice. The rice and beans were donated from a Church in Iowa. The supply has lasted 5 months and enables the students to get a hearty meal, which might be their only meal for the day. (Does anyone want to donate more food?)
Recess was our favorite time because we got to play with the kids. It was refreshing to see them being kids, enjoy playing outside, and being content with what they had. The kids did love our cameras and when they wanted their picture taken would pose and say, "Foto." We had fun conducting mini photo shoots with the kids.
When the kids went home, we did a 2 hour training with the 8 teachers, pastor, Child Sponsor Coordinator  and the principal,  while Silentor translated for us. We talked about the importance of rules and the teachers came up with 5-7 short rules for their classrooms. After discussing rules, we talked about consequences and we role played some common classroom behavior scenarios. Many of the teacher's questions were questions that perplex American teachers on a daily basis.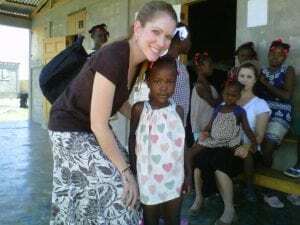 After the training, we went to an orphanage and were saddened to see the children without parents, but amazed by their smiles and love they showed us. They enjoyed doing our hair, wearing our sunglasses, and playing duck, duck, goose with us.
We look forward to what tomorrow will bring!