by Darla Van Kooten, MH4H trip participant
"This is the day that the Lord has made. Let us rejoice and be glad in it."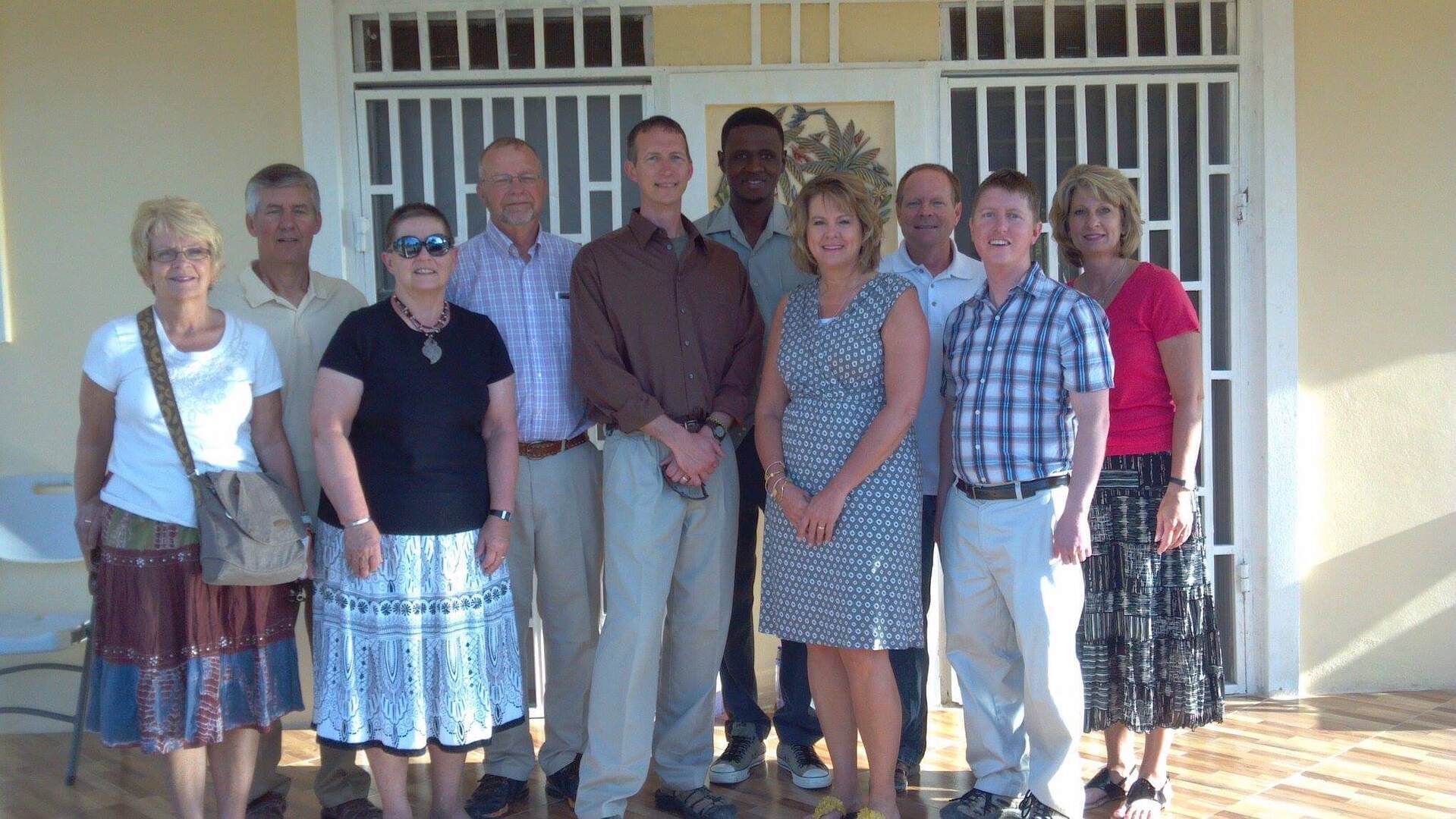 The Calvary CRC team on Palm Sunday, ready to go to church in Haiti. 
What a beautiful Sabbath day we had. We woke this morning and ended our day to singing by a local church over loud speakers. I wonder how many people would volunteer for praise team at Calvary if they knew it would be put on load speakers and loud enough for the town of Pella to hear.
We started the day with prayer and a tasty breakfast of oatmeal, boiled eggs, and pineapple. We were all dressed and ready by 8:00 am and were off for our drive in the truck. Never again will any of us complain about bumpy roads and potholes in Iowa; there are just no words to describe it here. The guys were such gentlemen and rode in the back of the truck in the hot sun to and from church both ways.
It was not your typical Sunday morning drive as we saw many sights. Little children in their Sunday best, a Catholic Church marching single file down the road waving palm branches for Palm Sunday, a funeral procession, and much, much more.  We thought at one point we might lose the guys when Zeke almost didn't slow down for the speed bump.
After an hour drive, we arrived in the little town of LaVictoire. We were welcomed graciously by Pastor Diony. It was a small church building which was built with twigs with a tarp tied over it. They were very polite and kind to all of us. There was a mixture of young and old at the service. I thought it was so sweet that the children were seated in the front of the church on both sides. "Jesus loves the little children, all the children of the world. Red and yellow, black and white they are precious in His sight. Jesus loves the little children of the world." They were so well behaved for their age. It was really neat to hear them sing, and we could pick out a few words here and there. Even though it was a different language, we serve the same God.
After some singing, Scripture reading, and the message, we were able to take communion with them. It was such an amazing feeling that we are ALL the body of Christ, no matter what race or color you are. It reminded me of the words of a song "One faith, one hope, one voice to praise You, we are the body of Christ."
It was a very moving service and Zeke was kind enough to translate the service to us. The group was called forward, and Dave introduced us, and then we sang our theme song "Prepare Our Hearts". Following that song, "Pastor Dave" preached a brief message on John 13: 1-17. He shared about how Jesus was servant-hearted. This Scripture passage teaches us how Jesus knew that He was going to be betrayed, but yet He had a meal with the disciples and washed their feet. Jesus is such a model to us on how we should be servant-hearted.
Following the service, we took a short walk to the home of Pastor Diony. He is truly a servant of God, as he has a family of his own but yet he has opened his home to be an orphanage to ten children. Some of the children have lost their parents and others are there just because their parents cannot afford to feed them. The conditions are modest, but what he is doing it great.
We came back from another long drive to a tasty lunch of soup. We were all pretty tired from working hard the past couple of days in the heat, so we took time to rest and read for the afternoon. After a quiet afternoon, we were privileged to travel to the Haiti Home of Hope orphanage which is run by Bill and Jennifer Campbell. They are natives of Kansas City, Missouri and are sponsored by the Red Bridge Baptist Church. They have been running the orphanage for 11 years. Currently, they have 41 children that live full time at the compound. They also run a feeding clinic and medical clinic every week. They are also amazing servants of the Lord who truly walk the walk and talk the talk. We all came away so blessed by the stories we heard and the work they are doing.
We came back to another tasty meal and have been preparing for another busy day tomorrow.  We are all doing well and have been healthy. We thank you for the prayers of our friends, family, and our Calvary family. We are certainly feeling the prayers.  We love you and miss you. Good night from Haiti!
Note from Dave Gritters:
As Darla mentioned, today was a special day. In July, Cindy and I met a man and his wife and young son in the hospital in Pignon. Cindy and I prayed with him for his wife that night, but both of us felt we would see him again. A few weeks ago, he invited us to his church and even to preach. So I told him that I am not a preacher, and he should still do that, but I would be happy to talk a little bit. What a blessing today was to worship with them. We watched a video tonight that highlighted the disparity between the rich and poor. What a stark reality that became today. I could not help but think of how comfortable our churches in the states are. Diony's church has a dirt floor, stick and tarp walls and roof, and woven chairs.  I catch myself wondering if I would go to church if I did not have electricity, AC, walls, padded seats, instruments, and so on.
As we were ushered in, the church was singing so loudly. Of any church I have ever been in, this is by far the loudest singing I have heard, with zero instruments. It was really neat. Pastor Diony shared how Jesus was not what people expected and how he came to die for us. He then opened up to questions and invited the church to answer.  His simple offering request was reminding the people they must give to help. They are hoping to buy more chairs so more people can come to worship.
What a privilege it was to be there. He is really living out what it means to be servant. What else struck me about him is the fact that his 1 ½ year old son is sick and in the hospital in Cap Haitian which is about a 2 ½ hour drive from him. He took him there on Thursday, came back to be at church and to greet us, and is going back to Cap today. His little boy is Isaac, and Diony would love to have you pray for him – he has a cough and fevers.
Want to read more from this team? Then head back to their first day in Haiti by clicking here.