by Brian, Tim, and Joe
Compared to our 3:30 and 5:00 AM departure times the previous days, it was a treat to sleep in until 7:00 this morning.  Sleeping arrangements for some of us were more interesting than others, as we spent the night in an unfinished building (it was roofed) on cots that squeaked every time their occupants shifted and used mosquito nets for blankets.  God blessed the sleep we were able to get, as we woke up refreshed and ready to face our first complete day in Haiti.
Since arriving in Haiti, we've noticed that we can sometimes tell what's going on based on sound alone.
We invite you to close your eyes and imagine the sounds of Haiti:
Roosters and frogs: throughout the night and in the early morning
Squeaky cots: all night long
Shovels and cement: Our first project was to mix and pour cement floors for two local families.  We split into two groups to tackle both houses at once.  Cement floors help to prevent the spread of disease, as germs can live in the dirt floors for weeks.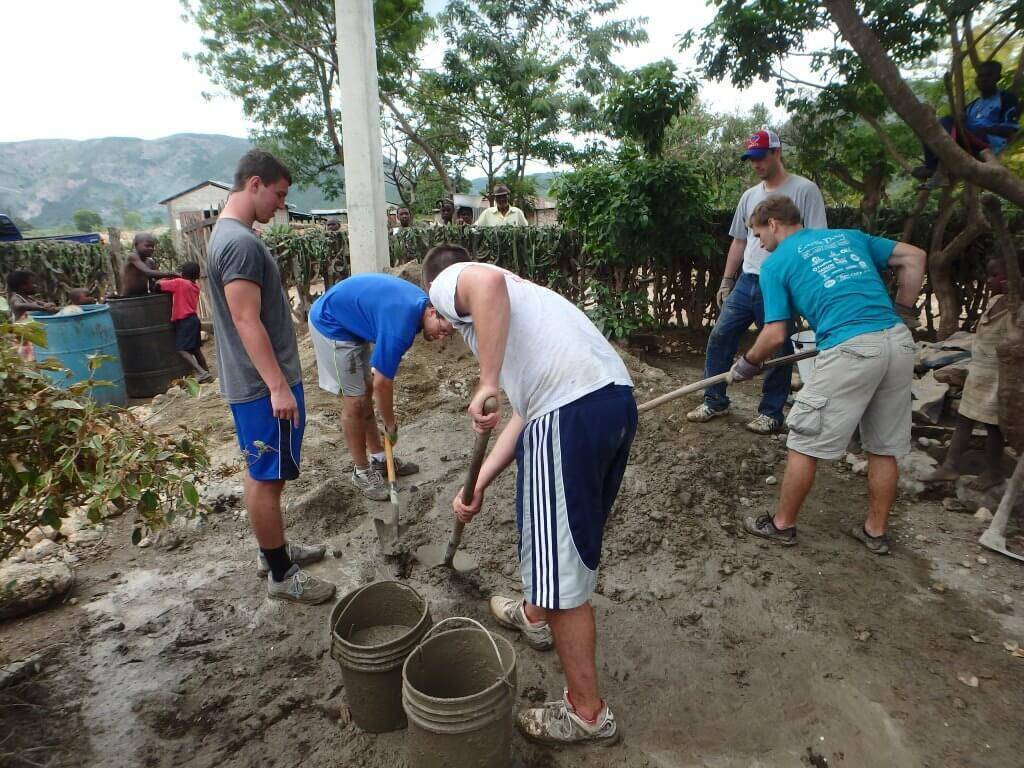 Children singing and laughing: Thrive for 5 offers a meal a day to over 100 children under 5, as well as worship songs and Bible stories.  We provided some entertainment in the form of Bible skits and other activities.
Kids laughing and crying, chasing bubbles: We brought nail polish, face paint, and bubbles to share with the kids, and I think they enjoyed it almost as much as we did!  There were a few hard falls, but no permanent injuries.
Balloon animals squealing and popping: Another big attraction was the balloons that we brought to blow up and make into animals.  We could only manage to make dogs, but they were well received.  So well that we nearly feared for our lives as we passed them out four or five at a time.
Church choir singing and our worship mixed together: We did our first team devotional this afternoon, and we were accompanied by a nearby church choir practice.  It was a neat experience to meditate on God's word while listening to our neighbors worshiping in Creole.
Creole and English: Alo!  What is your name? My name is…: The kids we encountered throughout the day were eager to practice their English, which consisted of the above sentences.  Fortunately we could counter with our stellar Creole: Bonjou/Bonswa (Hello), Sak pusse (what's up), Na boule (nothing much), Como ou rele (what is your name?), and dlo (water).
Mesi (Thank you):  As we worked on the cement floors, the homeowners constantly expressed their gratitude.
Soccer ball bouncing on cement: self-explanatory
Wind blowing through sugar cane: Sugar cane is the area's largest industry, with most of it getting made into alcohol.  Like corn in Iowa, sugar cane is everywhere.  We are staring into a field of it as we write this.  The wind is a big help in keeping us cool as we struggle to adapt to the Haitian heat.
Splashing through puddles: The main modes of transportation in Pignon are motorcycles and donkeys.  The rest of the people walk.  Now that the rainy season has begun, the roads are half filled with puddles.  This makes for an interesting ride for us as we ride in the back of pickup trucks to our work sites.  It's always an adventure.  We're just waiting for someone to fall off…
Goats and pigs: Both are allowed to roam free around town, and the goats at least provide a constant source of noise, especially when it rains.
Even though we can't hear them audibly, we are certainly feeling the effects of your prayers.  Thank you from the bottom of our hearts for your support as we continue to experience God on this adventure.
Want to hear more? Then click here to read about the team's arrival to Haiti.