Bonswa, tout moun! Hello, everyone and greetings from Haiti! My name is Denise Dent and my husband, Tom, and I are here in Haiti now. We have been here since August 27 toiling away in the hot Haitian sun and loving every minute of it!
We have had the privilege to serve at the Many Hands for Haiti campus for the past two and a half years. After our first time to Many Hands on a mission trip in February of 2017, we fell in love with the organization and the people. Since then, we have been serving in Haiti regularly, coming down up to four times per year. I will be here for one month this trip while Tom is here for two weeks.
So, who are we and what the heck do we do here, you ask? Well, we are from Humeston, Iowa. I am a former school teacher, administrator and homeschool mom, while Tom farms and raises cattle with his dad. We have two grown daughters who both just recently graduated from college and are (almost) out on their own now. Back in 2017, with the empty nest approaching and me soon to be out of a job as a homeschool mom, I was already looking to do something else when our opportunity to work with Many Hands arose. 
Through my contacts while homeschooling, we learned about the Many Hands organization. All I knew about them at that time was that they were based in Haiti, which I had always hoped to visit some day. Being a French teacher for 17 years, I had taught a little bit about Haiti since they are one of the French-speaking countries in the world. It seemed like a beautiful and interesting place. I always wanted to go on a mission trip to Haiti so that I could use my French. However, the chance to visit never came up until 2017.
After attending a homeschool field trip to the Mango Tree in Pella, I spoke to the Many Hands contact person and began to make arrangements to go on a mission trip. At that point, Tom also decided to go. Tagging along with the PET cart team, we made our first of many trips to Haiti. Knowing that we wanted to do more after our week-long stay, we had a conversation with Tim Brand. He had some ideas of how to best use our skills and abilities, so he sent me back that May to get to know the staff a little better. It has grown from there. Currently, this is my 11th time and Tom's 5th time in Haiti since 2017.
My main purpose in coming each time is to lead a quarterly staff meeting. Every three months, the staff gets together for an all-day meeting where they work together to discuss the organization's goals and plan for the next quarter. They continue to have weekly meetings in the interim when I'm not here. We just celebrated two years of our Traction meetings this week. Tim's vision of seeing the staff grow closer and work together better has come true. I have seen a lot of growth and changes in the time I've known them. They have worked really hard and it's been great being a small part of the transformation that has taken place because of this new organizational system.
Besides Traction meetings, my other tasks include organizing the storage closets (actually my favorite thing to do!), entering data for the many different departments, helping with the preschool on campus by doing trainings or whatever, helping with teams, when needed, organizing the Bundled Bottoms program and anything else that needs to be done that I am able to do.
Since Tom's backround is in agriculture, he has been asked to help out and consult on different ag projects. He has been pretty helpful, I think, and has learned alot about goats in the last two years! Since he is pretty handy, they also keep him busy with their "honey-do" lists while he's here. He has already accomplished many projects in the short time he has been here. (Now if I could only get him to be so productive in Iowa!)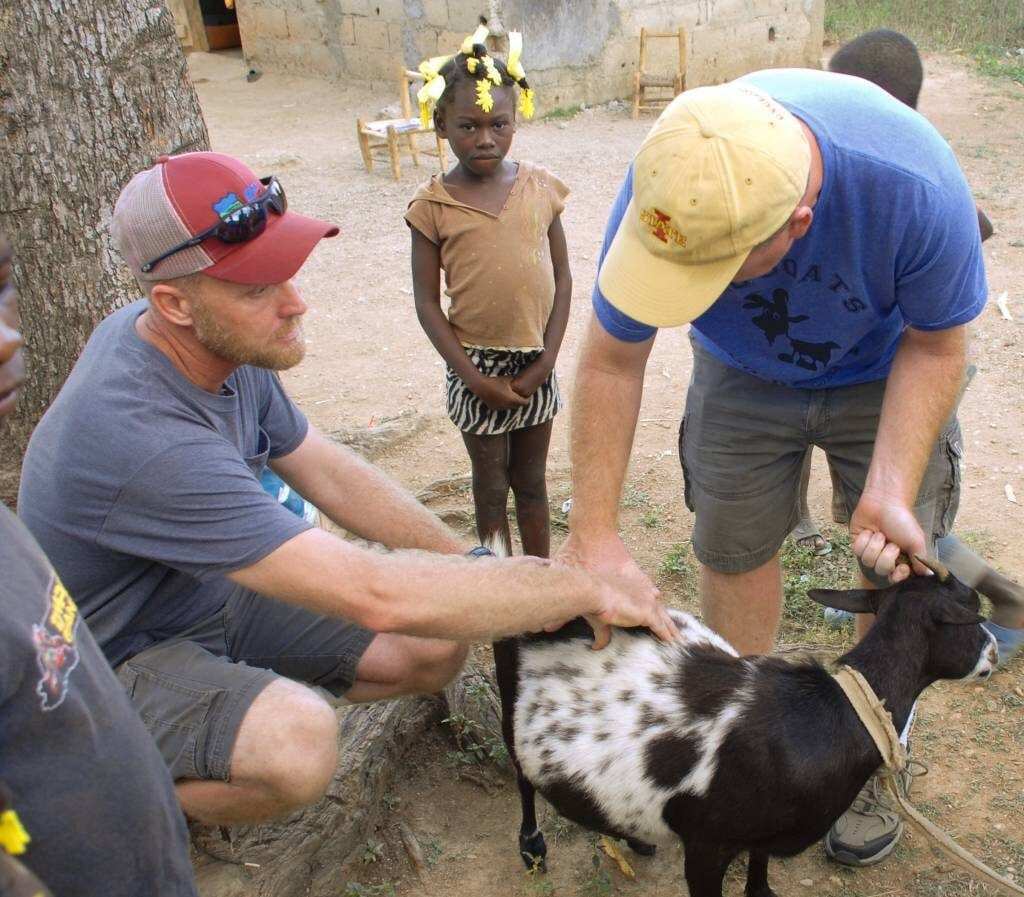 We have both seen and learned a lot while being in Haiti. While here, we've had the opportunity to be part of Haitians' every day lives. Being here more often for longer periods of time has allowed us to dig deeper in to the Haitian culture. We have attended weddings, funerals, graduations, baptisms and other various celebrations. People have welcomed us in to their homes and lives.
As far as learning, the first thing I learned is that, although French is the official language of Haiti, not everyone speaks it. I discovered right away that Haitian Créole (or Kreyòl) is what everyone really speaks. So, for the last 2 1/2 years, I have been doing my best to learn it. Knowing French has helped alot in that endeavor, but learning a new language at 50-something is still a challenge.
Denise helping to facilitate teacher training for the SOL staff
Even though it has been difficult, to really know Haiti and its people and to work alongside of them, it's necessary to communicate in their language. I am not yet fluent, but I can say that I'm understanding more each time. Tom, on the other hand, has a very limited vocabulary and shows little interest in expanding his repertoire; however, he still seems to communicate just fine by gestures and pictures. It's quite entertaining to the Haitian staff, really.
Other things we have learned while in Haiti (in no particular order):
Haiti is a hard place in which to live. Nothing comes easy here, yet it's worth the trouble.
Haitians love God and they are not afraid to show it everywhere and all the time. Sometimes I'm jealous that we can't be more like that at home.
It's really hot here most of the time, but no one ever talks or complains about it. They just deal with it.
The Americans living down here are making great sacrifices to be here and they work their moudas off (a new word I just learned!) every day.
The Americans and Haitians on this campus truly love and respect each other. The culture of MH4H is a beautiful thing to behold!
We can't solve all of Haiti's problems and it's not our job to do it.

Both the Americans and Haitians here are very generous and hospitable.
God has given us all gifts, but mine is not playing the game "Chameleon".
Besides learning a lot, we have also met a lot of great people associated with Many Hands over the past few years; fellow Christians who want to be part of transforming lives. Being around so many like-minded people has been a joy. This has become our second home and we always feel welcomed here. We always look forward to returning and helping when and where we can. God is here and has a plan for Many Hands. We are blessed to be part of it.