The Gyolai family at Kakum National Park, Ghana
In 1 Samuel 18:1-4, Jonathan, the son of King Saul and rightful heir to the throne of Israel, does something incredible. He submits to a shepherd boy named David, who had just slayed a giant named Goliath. Later in 1 Samuel 20:4, when David is at the end of his rope with King Saul trying to kill him, Jonathan comes to David and says, "Whatever you want me to do, I'll do it for you." This is a sign of true friendship and is exceptionally powerful and encouraging for David. When I read an extremely humble and unworldly act by someone, I ask myself, "Where did this come from?" as there must have been something in the past to prepare the individual for this moment. In studying the scriptures more, in Jonathan's case, it was through an unnamed armor-bearer.
In 1 Samuel 14:1-14, King Saul's army was getting it handed to them by the Philistines. Jonathan had reached his Popeye moment where he "couldn't stands it no more" and decided to sneak out of his camp and go attack the Philistines. This was very dangerous and one person went with Jonathan, an unnamed armor-bearer. As Jonathan was formulating his plan, the armor-bearer said to him, "Do all that you have in mind. Go ahead; I am with you heart and soul." Not only did the armor-bearer say yes, he basically said, "I am with you till death. You have my full allegiance." Together, they climbed the hill, fought side-by-side, won the day and turned the war for the Israelites.  In seeing the whole picture of Jonathan's life, I have no doubt he was able to fully submit to King David, as he had the same allegiance given to him by the unnamed armor-bearer. In my walk to fully surrender to God's will for my life, I've had an unnamed armor-bearer go before me and show me the path to walk: Jamie and Sarah Gyolai.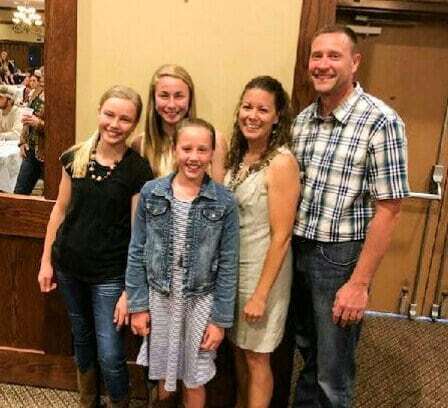 "…
they wanted to be available to be used by God, with no excuses as to why they couldn't follow.

"
I was introduced to Jamie through a slow-pitch softball game. Jamie was a heck of a softball player and I'd heard from others he would be someone I would naturally connect with. I went to lunch with Jamie and was amazed at his family's story. Jamie moved to Pella from North Dakota through Pella Corporation and like most young people, was in pursuit of a powerful business career. He was very good at his job and advanced in the Pella Corp. world. Over a series of events and years of God working on his heart, he left typical, traditional business to pursue God's mission WITH his family. He early-withdrew his Pella Corp. 401K to get out of debt, Sarah started to homeschool the kids, and they got their finances in line to live a life of intention for Kingdom work, wherever God sent them. When I started to meet with Jamie, he was unlike anyone else I had ever met. Here was this incredibly talented, God-fearing man, who actually put his money, family, and faith into action, walking the walk every day. All Jamie and Sarah ever said to me was they wanted to be available to be used by God, with no excuses as to why they couldn't follow. This challenged me like no one else and showed me a different way to live life. Without meeting with Jamie on a weekly basis, I don't think I make the same decision when I go for that drive in October 2011.
Gyolai children at an orphanage
I have learned so much from my friendship with Sarah and Jamie Gyolai. First, they have taught me that God is looking for acts of complete submission with no thought of return. Sarah and Jamie demonstrate their love for God through their acts of obedience. I've witnessed this obedience firsthand and can testify to their hearts. And because I've witnessed it, it allowed our family to walk in obedience and trust that God would provide when the call came our way. Second, the Gyolais give God all the praise. They praise God in incredibly hard circumstances and in times of blessing. They are people of praise and this spirit is contagious. They have blessed hundreds of people around the world in relationship and with humility. They are unnamed armor-bearers for so many people, doing God's work without the spotlight. I've had countless conversations with Jamie, using him as a sounding board time and time again for critical Many Hands decisions.
Sarah Gyolai with a work team at ACTS Surge event, Ghana
Jamie Gyolai with his work team celebrating the construction of their first Vytrak vehicle.
Many Hands for Haiti stands on the shoulders of Sarah and Jamie Gyolai, who humbly submit to God to serve with intention, investing in Kingdom living. I remember one of my first phone calls in October 2011, when I decided to quit my job to do full-time ministry work, was to Jamie. He was shocked and said, "I can't believe you actually did it. A lot of people talk about it, but I don't know many who actually do it. I'm proud of you, man. You are going to do awesome." I didn't verbalize this then, but I want to verbalize it now. I had the courage to move with this level of faith because I saw Jamie do it before me. He was my armor-bearer saying to me, "Do all that you have in mind. Go ahead; I am with you heart and soul."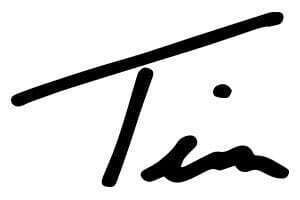 HELP US CHANGE
HAITI FOREVER
GIVE TO THE 50/50 Campaign AND TRANSFORM TOGETHER WITH Families IN RURAL HAITI.
HELP US
CHANGE HAITI
FOREVER
GIVE TO THE 50/50 CAMPAIGN AND HELP FAMILIES IN RURAL HAITI.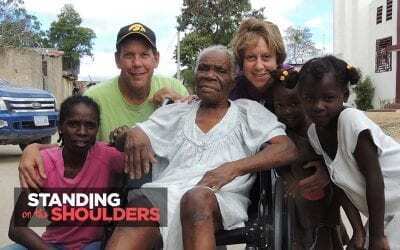 Many Hands stands on the shoulders of Tim and Lucia Van Maanen, whose sacrificial "I'm with you" spirit forever set our organization on God's path.
read more