by Dianna and Ashley Ambroson, Pella Christian winterim trip participants 
Today we had a celebration picnic in Savanette for the students and families of Pella Christian. We took a beautiful one mile walk to the school. It is a very fertile area, and we were able to enjoy a little of the tropical beauty around us. We enjoyed lots of fun times with the kids. Many of the girls played a clapping game that they taught us, and the boys played a little soccer. Woody (one of the staff for Many Hands for Haiti) got out the speakers and began playing music, and we all had a lot of fun dancing with the kids! We really started getting bummed about the language barrier, as so many of these beautiful children try to talk to us but we can't understand them.
We continued the celebration by gathering the children together for a Bible story in which Carson played Jezi (Jesus) and rode on a donkey. (Yes, it was real!) We waved real palm branches and shouted, "Hosanna!" Then several of the students got up and did skits and songs and had such a good time. It was so fun to see them interacting with each other and so much laughter!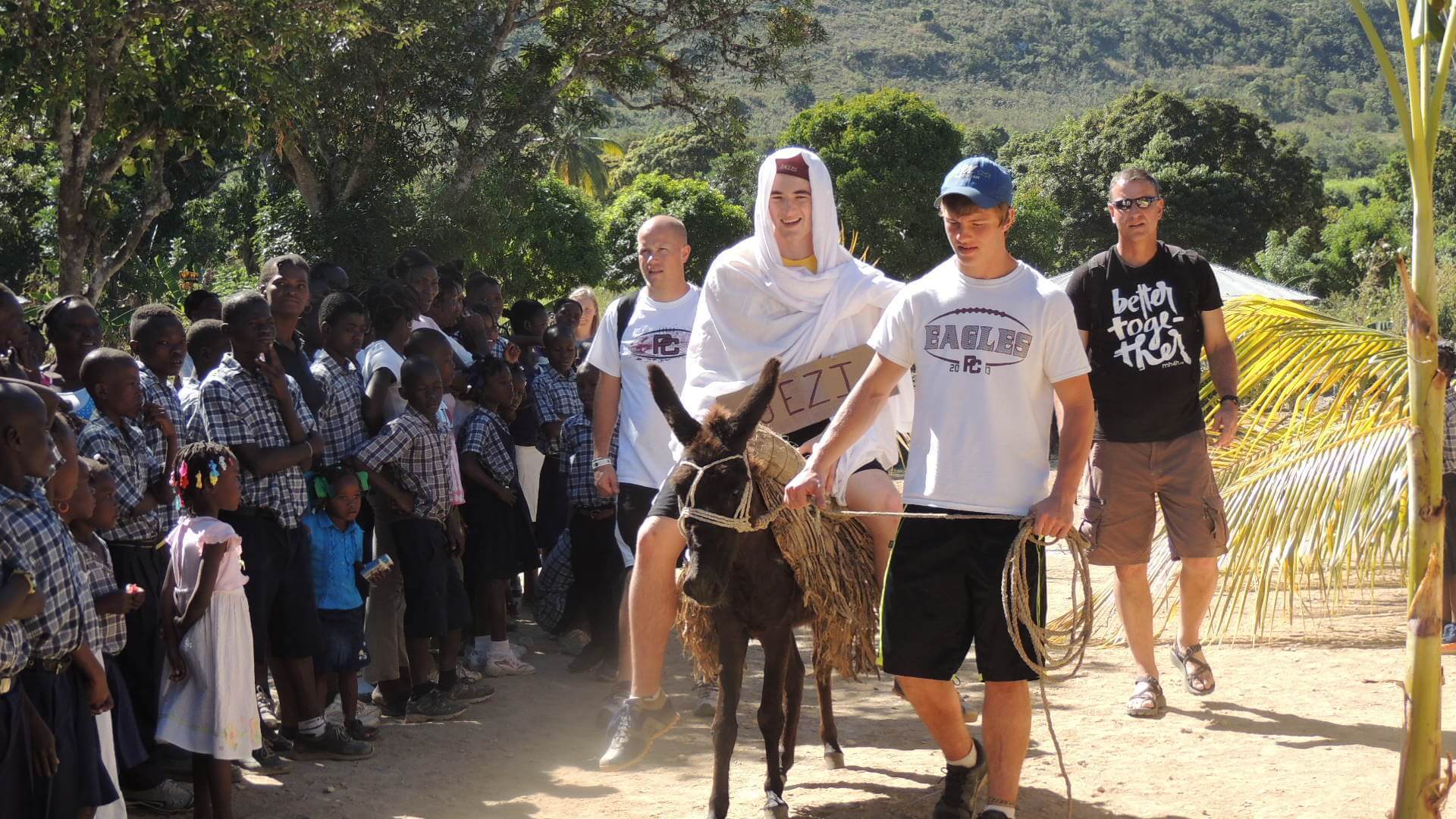 Carson rode a live donkey as the Pella Christian team reenacted the story of Palm Sunday with real palm branches for the Pella Christian of Pignon community. 
I was especially moved to hear the kids sing "How Great Thou Art" in Creole. For all of you supporters of Pella Christian Haiti, messi (thank you)! You can be assured that the school is amazing and that God is at work here. The view around it is beautiful, and it is definitely a light shining in this dark world!
The cooks at the school made enough chicken, rice, and beans for 350 people, and we also had juice for everyone. Keeping in mind that this is Haiti, the down side was that there was not enough to feed everyone who was there. As Lucia reminds us, there will always be one more hand. However, we are not going to let it bring us down, because we know that God holds these special people in the palm of His hand, and we are just so very humbled to be a small part of His amazing work.
Some of the students at Pella Christian enjoying the celebration picnic meal. 
We were a weary bunch walking back to the compound for lunch around 2:00. It had to be about 90 degrees here today, and the sun was very hot! Sorry to those of you back home. We understand that there was probably a 100 degree temperature difference today!
We enjoyed an afternoon of hanging out together. The girls put together Bible crafts for the kids, while the boys put together a couple of soccer goals. Amee and I had fun putting a few Bible verses on the wall of the house! We also enjoyed a meal of spaghetti and meat sauce tonight, which we were all ready for after the goat yesterday.
We always have fun playing cards, and tonight, we laughed so hard as we played charades! I feel like we bonded more as a group today and are really having a lot of fun with each other! Many good memories are being made in Haiti!
Click here to read day's three account of going to chuch, visiting a witch doctor, playing with orphans, and more! Click here to read day 2 when the team went to a Haitian market and climbed Mt. Pignon. Click here to read about the team's arrival to Pignon and first impressions of Haiti.