by Keith Anderson & Dillon Branderhorst, Pella Christian winterim trip participants 
Today was our last full day in Haiti.  We were informed that it was going to be a full day with finishing up a few projects and visiting both Pella Christian and the hospital. We once again got to sleep in a little bit before helping with Thrive for 5. Woodsy once again had the place rockin' with some music as the children entered the building. We made giraffe crafts after hearing the creation story.  The kids loved the craft and the extra attention from our team!
Then it was off to Pella Christian to do some playing and some gift giving. Many of our team members and families sponsor children from the school and had brought gifts to give to their child. This was an amazing thing to watch and be a part of, as the gifts were things they definitely were not accustomed to having on a regular basis. We did some playing with the children with the big parachute and everyone had a great time with that.
As the children were being dismissed from their classrooms for the day, they were all given a toy wooden truck that we had brought from Pella. They seemed very appreciative, and we saw many of them playing with them right away. We finished up our time at the school with some songs and dancing and a picture in front of the school.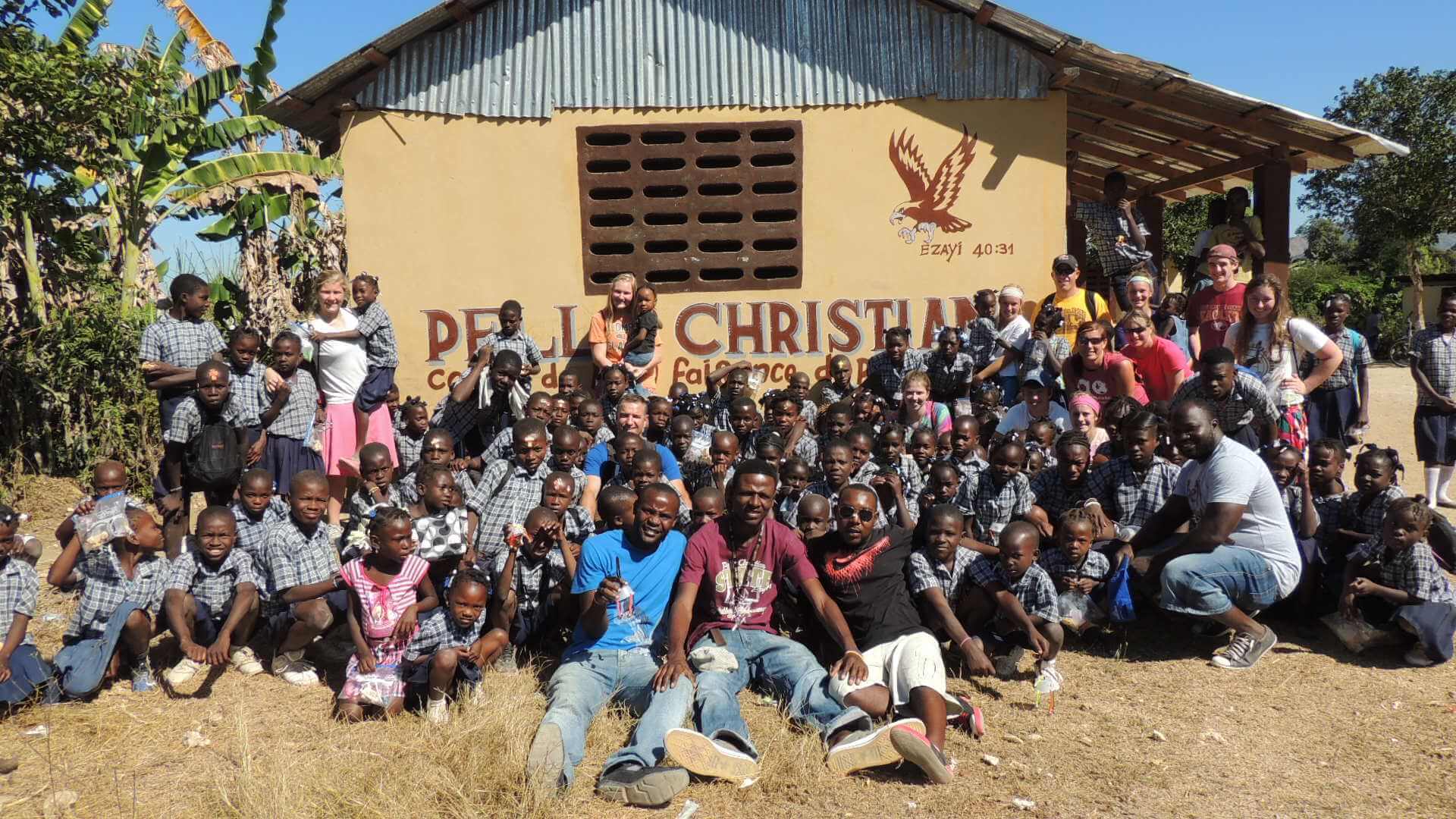 From the school, we had a special delivery to make. Tanner Van Maanen had given Morgan De Ruiter a goat for her birthday for the family that the De Ruiter's sponsor. (Think that's a neat idea for a present? You can buy a goat and many other symbolic gifts through Solid Ground by clicking here!)  We made the hike up the countryside to deliver the goat to Garrison's family. The family was very large, so this goat will be a great addition for the family. Morgan's dad, Darryl (principal at Pella Christian), got to deliver the goat and pray with Garrison's family.
After a bite to eat for lunch, we headed into town to go to the craft market that many women from Pignon set up. There were many different crafts to choose from, and it seemed we were being pulled every which way, which got to be a little overwhelming. Nevertheless, we all found some nice souvenirs to bring back to Iowa with us, and it was fun to do a little negotiating with the women while supporting them. After the craft sale, we went to the hospital to sing and pray with the patients. We could really feel God's presence while in the hospital, and the people were receptive to our prayers and singing,
When finished, we made our way back to the compound and had some fun greeting all the people we encountered along the way. The many smiles and waves to our truck made it fun trip back "home" for the night.
The only downside of the day was a slight mishap by Carson Dugger. When we were pulling in to the compound driveway, Carson jumped out to open the gate and ended up slicing 2 tendons in his fingers on the tin gate. After a quick trip back to town to get stitched up by an American doctor from North Dakota, we are all back and enjoying our last night in Haiti before we prepare to head home tomorrow.
God is good!! We are all so thankful for this opportunity!
To read the previous day's entry, click here. To read about the team's celebration picnic where they fed over 500 people, click here.
From MH4H: We just received this blog by email from Lucia Van Maanen. She said she was standing on the runway in Pignon as she sent it. Will you join us in praying as this team of 14 flies back to the States today and says goodbye to a country and people they've grown to love?
Heavenly Father,
You are our good and gracious God. We know that you are full of compassion and abounding in love, but sometimes we question that when we see your children suffer and struggle. Lord, adjusting back to this American life after living in a third world country is difficult for many, so we ask that you be with the Pella Christian team as they reintegrate with their lives in America. We pray that they take the time to struggle with the things You place on their hearts. We ask that you use their week in Haiti to teach them more about You and Your world and that they would continue to seek to be Your hands and feet, regardless of what setting You place them in.
Abba Father, thank you for each one of these trip participants. Thank you for their willingness to freely give of themselves to further the mission of making You real in our broken world. Thank you for the memories they've been able to make during an incredible week in Haiti, and thank you for keeping them safe thus far. We ask that You continue to guard and protect each one of these team members and give them safe travels home.
In Your precious and holy name,
Amen.